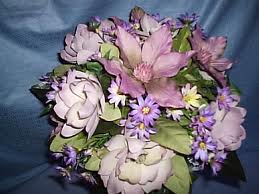 The Beggar Boy And The Flowers.
"Go away, you beggar boy! You've no
right to be looking at our flowers!" shouted
a little fellow from the garden where he
was standing.
The poor boy's face reddened with anger
at the rude language, and he was about to
answer defiantly, when a little girl sprang
out from an arbor near, and looking at
both, said to her brother:
"How could you speak so, Herbert?
I'm sure his looking at the flowers won't
hurt us."
And then, to soothe the wounded feelings
of the stranger, she said:
"Little boy, I'll pick you some flowers if
you will wait a moment;" and she immediately
gathered a pretty nosegay, and
handed it through the railing. His face
brightened with surprise and pleasure, as he
earnestly thanked her.
Twelve years after this, the girl had
grown to be a woman. One bright afternoon,
she was walking with her husband
in the garden, when she noticed a young
man in a workman's dress, leaning against
the railing, and looking attentively at her
and at the flowers. Approaching him she
said:
"Are you fond of flowers, sir? It will
give me great pleasure to gather you some."
"The young workman looked into her
fair face, and then said:
"Twelve years ago, I stood here a ragged
beggar boy, and you showed me the same
kindness. The bright flowers and your
pleasant words made a new boy of me; ah!
they made a man of me, too. Your face,
madam, has been a light to me in many
dark hours of my life; and now, thank
God, though that boy is still a humble,
hardworking man, he is an honest
and a grateful one."
Tears stood in the eyes of the lady as,
turning to her husband, she said:
"God put it in my young heart to do that
little kindness, and see what a great reward
it has brought!"
Young Pilgrim.
Do but the half of what you can, and you
will be surprised at the result of your effort.