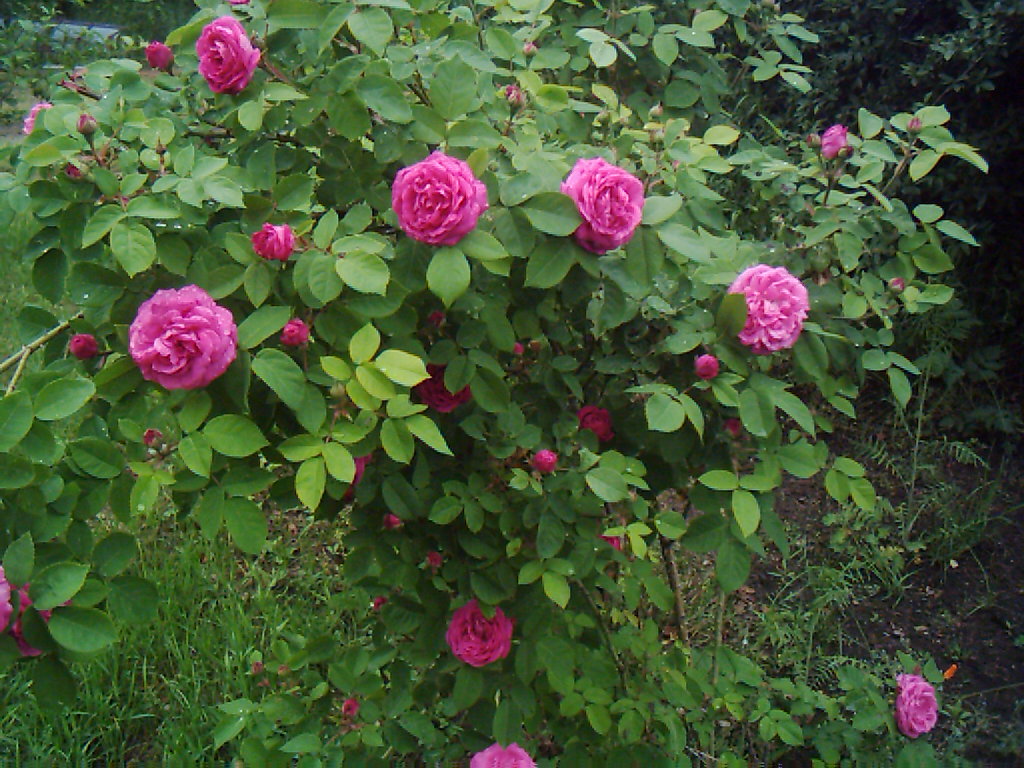 STORY OF THE
FLOWER MISSION.

A PINK rose-vine grew over the corner of a pretty cottage in a quiet quarter of the town, and on this particular morning, so full of the radiant beauty of spring, it was adorned with buds and blossoms. One slender spray, bearing three lovely-tinted buds, reached out across a front window, and nodded to the occupants of the room inside.
A pretty room it was, comfortably furnished, and made bright and cheery by pictures upon the walls. A young girl with a discontented look upon her face, sat idly scribbling at a table covered with books and papers, and occasionally addressed a remark to her mother, who, seated at an open window, with her work-basket beside her, was sewing busily.
"I wish that I knew what to do with myself this morning," Kitty exclaimed at length after fidgeting restlessly in her chair for a few minutes.
"It would be a very good thing if you would sew awhile on this skirt," said her mother;
"I do not believe that I can get it finished today."
"O mother, don't ask me to do that! You know how I hate to sew, and I don't care if it is not done today."
"I wonder what you would do, if you had all your own sewing to do yourself," her mother remarked, and then went quietly on with her work, apparently unmindful of Kitty's mood.
The girl made no reply to her mother's remark, but tapped her foot on the carpet, bit the end of her pencil, and knit her brows into a very unbecoming frown. At length she jumped up, went to the window, and looked down the street.
Just then the rose-spray nodded again, and Kitty caught sight of it. A new thought flashed into her brain. "I know what I will do! I'll go and help the girls at the Flower Mission. Laura Greer has asked me to, several times."
She was soon ready, and having filled a small basket with roses, syringes, honeysuckles, and pansies, she covered them from the light, and was soon on her way.
On reaching the rooms where the committee met, she made her way to Laura Greer's table.
"Well, if there isn't Kitty!" exclaimed that young lady, as she saw her coming.
"I had given up expecting ever to see you here."
"I don't always do as people expect me to," laughed Kitty, "but I had nothing to do this morning, and was lonesome, so thought I'd come and bring a few flowers, and help you make bouquets."
Laura assured Kitty that they were glad to have her help, and hastened to get things together for her to set to work.
There were heaps and heaps of flowers that morning. Roses in endless profusion, baskets of hot-house blossoms, scarlet and pink geraniums, verbenas of every color, and even a few of the dear little lilies of the valley. Then there were apple-blossoms from the country, blue larkspurs, and bright yellow dandelions so dear to the hearts of the children. Kitty was very fond of flowers, and it was a delight to see all this variety. The work went swiftly on, accompanied by the merry chat of the girls, interspersed with frequent exclamations of "Oh, how lovely!" "Isn't that beautiful!" as some particularly pretty flower or bouquet would be brought into notice.
At length the bouquets were all made, the baskets filled with them, and the girls started out, Laura taking Kitty with her.
They soon reached the children's hospital, where they received a cordial welcome. They went slowly down the aisles, past the little white beds, stopping at each one to bestow a bright nosegay upon its occupant; and it warmed Kitty's heart to see the look of pleasure which would light up the young faces when they received them. It amused her to see the common, homely flowers which some would choose when they espied them, in preference to the prettier ones that were offered.
Again they were in the street, and after walking a few blocks, and stopping at several doors to give flowers to eager children most of them sick ones Laura said, "Now we are coming to the place where I like best of all to go."
Before Kitty could ask who they were going to see, she knocked at the door of a little house. It was opened by a middle-aged, kind-faced woman, to whom Laura said, "Good morning, Mrs. Bates; how is Elsie today? I have brought a friend of mine to see her."
"She is as well as usual, thank you, ma'am; and I'm glad you have come. Walk in."
They entered the invalid's room, and there, on a neat little bed, Kitty saw a young girl of apparently sixteen years, with a fair, delicate face, who looked up with a sweet smile out of a pair of dark brown eyes, and gave them a warm welcome.
Laura gave her a bouquet, which was gratefully received; and then Kitty gave her a small nosegay of apple-blossoms, with one of the pink buds gathered from her rosevine laid against it, a spray of green leaves for a background, and a tiny stem of lilies of the valley nestled in front.
As the young girl's eye rested on it, she reached her hand for it eagerly, exclaiming in a delighted tone, "Oh, that lovely pink rose-bud! I am so glad to see one again!
We had a vine of just such roses in our dear old country home, and I have never seen any like it since we have been in the city."
Laura asked questions about Elsie's health and her work, some of which was lying beside her; and to Kitty's astonishment she found that this frail, delicate girl, propped with pillows into a half-reclining position, sewed, day after day, on little dresses and other plain garments for children, to help maintain herself.
"Don't you get very tired of such work?" she asked.
"My arms often get tired and ache so that I have to stop awhile; but I like to do the work. I would be miserable if not employed, and I cannot read all the time.
Then I would be such a burden to others if I did nothing to help myself."
After a little more conversation, the girls took their leave, and as Kitty said good-
bye, Elsie drew her down and kissed her warmly, thanking her for the visit, and for the pleasure which her bouquet had given, and exacting a promise that she would come again.
As Laura and Kitty separated to go to their homes, Laura said, "Come again some day soon, and help us."
"You may be sure I will," answered Kitty; and as she walked home alone, she was very thoughtful, for she had learned a lesson from the poor lame girl which her mother soon saw the effects of in her increased willingness to sew, or to busy herself in any useful employment, often going to the lame girl's room, and helping her an hour or two with her work. She soon ceased complaining of not knowing what to do with herself, and lost her restlessness and discontent.
And all through that bright spring day, the pink rose-bud looked smilingly at little Elsie, talking to her of happy scenes and hours when she was a child. At eve it opened into a full-blown rose, and the next day dropped its petals and died; but it had fulfilled its mission, and Kitty had found hers.
LICHEN,
in Arthur's Home Magazine.
ALL boys and girls should try to make
themselves useful to others.
We were placed here to do good.