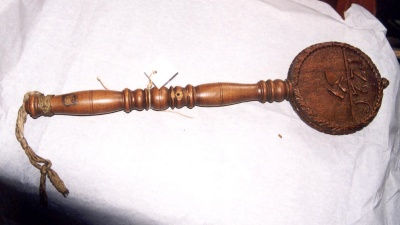 Martha Kinsley.
Jennie, was that you laughing?"
asked Mrs. Seymour of a little girl, between
eight and nine years of age.
"It was, ma'am."
"Come up to my desk, then." Tremblingly
the little charity scholar approached
the teacher.
"This makes the second time you have
laughed aloud today; and as I have expressly
forbidden any such conduct, it remains
for me to do as I said I should punish
you."
The fair-haired child held out her hand.
The ferule was about descending upon the
small, white palm.
"Hold, Mrs. Seymour!" exclaimed Martha
Kinsley. Her black eyes Flashed, and
her whole frame shook like a leaf. Little
Jennie was not to blame. I made a face, I
know; for I pinched my fingers twice in my
slate; and papa says when I turn up my nose
and throw down my eyes, it is enough to
make anybody laugh. And if any one is to
get a whipping, I am the one who deserves it.
If you will please whip me instead, I will
promise never to make any more faces when
I hurt myself, if I can help it."
Tears stood in the eyes of that proud
girl, who, though but eleven years old, quailed
not before the ferule that was still raised.
Every eye was on Martha, and the teacher
looked at both children as they stood before
her. The ferule dropped.
"No, Martha," exclaimed the teacher, "you
have acted nobly in saving her. Here is a
book I designed to give, on Friday afternoon,
to the best-behaved scholar; and I now present
it to you, both for your truthfulness and
nobility, and I hope this little transaction
will be a lesson to every pupil present. Be
always truthful, and never suffer another, to
receive chastisement for that of which you
may yourself be guilty."
Western Home.
PRAY for them which despitefully use you.